Submitted by the Bureau of Standards Jamaica (BSJ)
As the COVID-19 pandemic continues to impact face-to-face activities in the quality world, regional bureaux have responded by taking their offerings online. This includes everything from stakeholder engagements to shopping for standards.
The Bureau of Standards Jamaica (BSJ) continues to impact industry in the virtual space with paced scheduling of a series of Information Hot Spot sessions. This has enabled the bureau to reach far more persons from diverse places in the virtual space, than face-to-face sessions would have allowed.
Two recent sessions on labelling and food safety management provided information for key stakeholders including micro-, small- and medium-sized enterprises (MSMEs), for agro-processors, retailers and other business interests. More recently as well, they have opened an e-commerce platform to make it easier for clients to purchase standards, as well as online training courses.
Labelling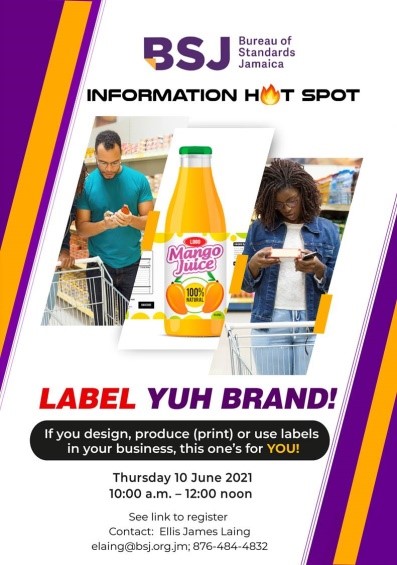 A session titled 'Label yuh Brand' explored general labelling requirements and commonly made errors in submitting labels for assessment to the BSJ, this session was held on Thursday 10 June, with the presentations being made by officers of the BSJ's Packaging, Non-metallic and Furniture Branch. Gurvon Spence and Paulette Bailey, with combined years of service of over 15 years, guided agro-processors, graphic artists and advertising executives through topics including:
General Labelling Requirements/Labelling for Foods
Labelling for Specific Products
Common Issues observed in label submissions.
Over 170 participants shared in the session with over 90% of polled participants indicating that the session was useful and that they gained new information.
Food Safety Management System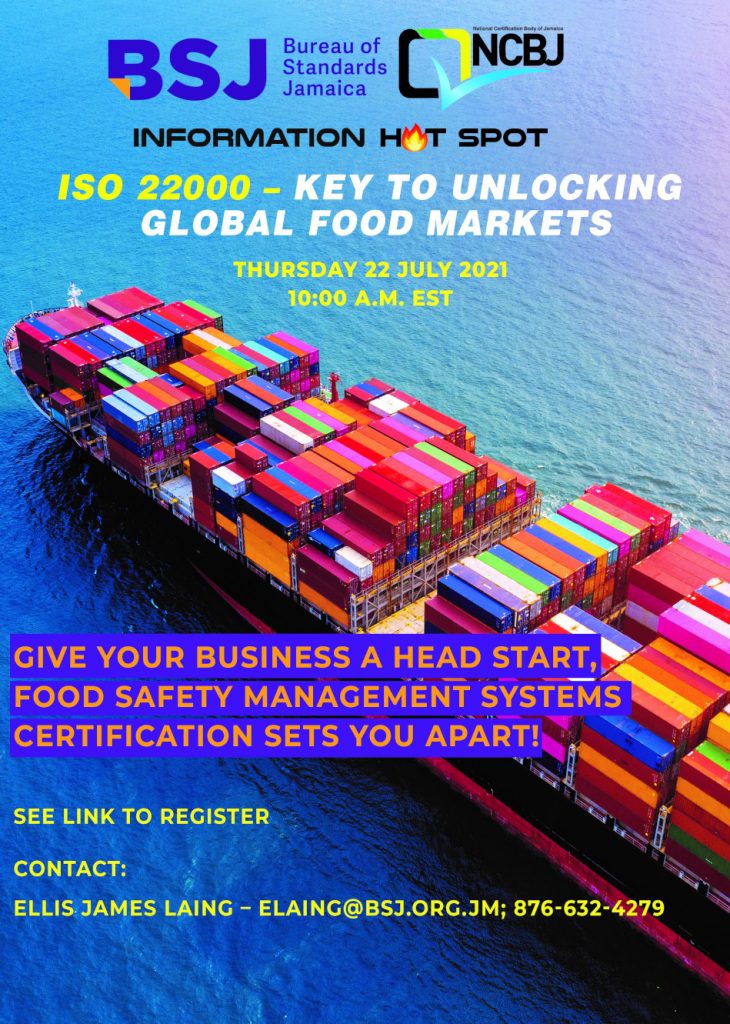 In July, focus shifted to providing insights of the benefits of implementing the ISO 22000: 2018 Food safety management quality system. A regional audience tuned in to hear the virtues of a management system that transcends from the farm through to the fork, expounded by Manager of the National Certification Body of Jamaica (NCBJ), Navenia Wellington Ford.
Dubbed ISO 22000: 2018 – The Key to Unlocking Global Food Markets, Mrs. Wellington Ford spoke to the importance of food safety; the high incidences of food poisoning and emphasized the importance of implementing a food safety management system such as the one she was presenting on.
Mrs. Wellington Ford indicated that across the world, countries had increased their calls for third party certification from traders and thus the need for a range of companies – involved in farming, transportation, processing, distribution, hospitality and food service sectors to move speedily towards this critical investment in their operations.
She also cited the importance of the NCBJ, as a regional certification body, mindful of the nuances of the Caribbean culture as an agency able to offer certification services to companies across the Caribbean and Latin America. Over 55 individuals attended the session which included an engaging Question and Answer section.
The BSJ's Information Hot Spot sessions provide a range of information for business operators in relation to standards, services of the BSJ and best practices.
BSJ Launches eCommerce Platform
The purchase of standards and training courses for the Bureau of Standards Jamaica are now available online.
This comes after the BSJ recently launched its e-commerce platform with plans to continue expanding its range of offerings.
The BSJ has noted that the launch of this platform, available through its website, www.bsj.org.jm, is in an ongoing effort to facilitate ease of doing business and address customer needs.