The CARICOM Regional Organisation for Standards & Quality follows the internationally established method of standards development. In our instance, that process begins with the recognition of the need for a specific standard and a proposal that such a standard is developed for regional use. That process is referred to as a New Work Item Proposal (NWIP).
That proposal then has to be accepted by the CROSQ Council, which is comprised of the directors of each of the 15 Member States' standards bureaux, to kick start the process.
The process steps: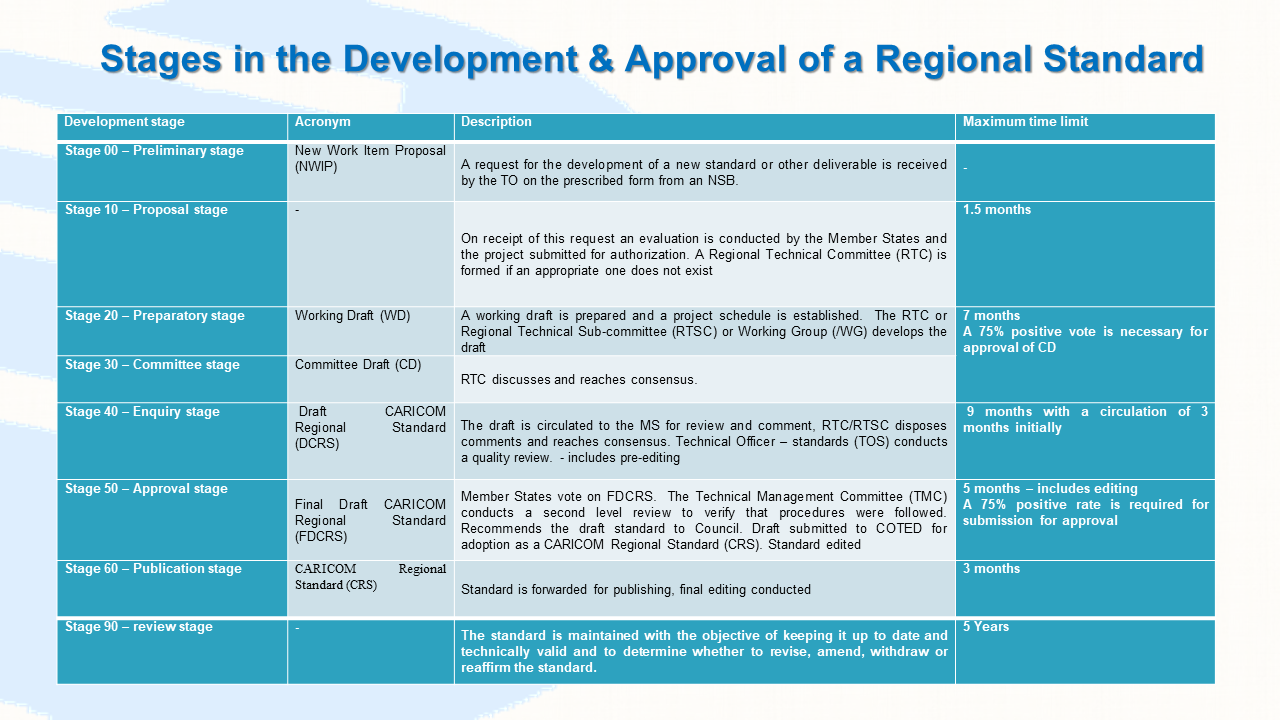 The final versions of all standards are submitted by the Regional Standards Technical Management Committee to the CROSQ Council for approval, prior to being submitted to the CARICOM Council for Trade and Economic Development (COTED) for final regional approval. This only occurs after the national circulation for voting process, and where there are no sustained objections.
Below is a table of standards currently under development, or on hold. This table will be updated periodically, but at least twice per year. [Last updated April 27, 2022)
*NB: All requests, enquiries or comments on Draft CARICOM Regional Standards out for Public Comment, should be directed through the Bureau of Standards in a CARICOM Member State.
All published CARICOM Regional Standards are available for purchase from the Bureau of Standards in a CARICOM Member State; or the CROSQ Secretariat.
All draft and published CARICOM Regional Standards are copyrighted to the CARICOM Regional Organization for Standards and Quality.
Standards Under Development
| Code and/or Name of Standard | Stage of Standard | Member State Leading Development | Priority Level | Comments on Standard |
| --- | --- | --- | --- | --- |
| Labelling of Pre-packaged Foods -Revision | Draft Standard | Suriname | High | Standard returned to stage 40 due to lack of consensus at voting stage. Comments received at the voting stage are being disposed by the RTSC |
| Paints - Solvent-borne Coatings – Specification | Final Draft Standard | Trinidad and Tobago | High | FDCRS approved to be presented to the 54th COTED for approval |
| Specification for White Sugar | Final Draft Standard | Guyana | High | Standard submitted to 52nd COTED standard approval differed pending resolution of Trinidad and Tobago and Belize's negative votes. |
| Specification for Rum | Working Draft | Barbados | High | Standard revision is being undertaken by RTC 3 (Processed foods. Working group established for the development of the WD. Working Draft being developed. |
| Non-medical Face-masks | Draft Standard | Trinidad and Tobago | High | DCRS circulated for comments and comments received are being disposed by the RPT |
| Hand Sanitisers - Alcohol-based | Draft Standard | Antigua and Barbuda | High | DCRS circulated for comments. Deadline date 06 May 2022 |
| Labelling of Biodegradable Products | Draft Standard | Dominica | High | FDCRS cirulated for acceptance with a deadline of 16 March 2022. Received 1 negative vote which will be resolved prior to submission to COTED |
| Tobacco Advertising, Sponsorship, Sale and Promotion | Draft Standard | Saint Lucia | Medium | DCRS submitted for a second round of comments. Deadline 31st March 2022; extended at a request by MS TTBS to 29 April 2022. |
| Nutritional Labelling - Guidelines | Draft Standard | Jamaica | Normal | DCRS circulated for comments and comments are currently being addressed by the RTSC |
| Pesticides - Labelling | Draft Standard | Trinidad and Tobago | Normal | RPT disposing of comments |
| Specification for Toilet Tissue | Final Draft Standard | Suriname | Normal | DCRS submitted for voting, 1 negative vote rceived. Meeting scheduled to resolve negative vote, the meeting invitation not accepted by MS and as such the standard will be presented to 54th COTED for approval. |
| Construction of Houses - Code of Practice | Working Draft | Dominica and St Vincent and the Grenadines | Normal | Joint hosting of RPT with Dominica and St. Vincent & The Grenadines. Standard at Stage 30. WD developed. Consideration of WD to CD |
| Specification for Liquid Chlorine Bleach | Draft Standard | Trinidad and Tobago | Low | RTSC disposing of comments |
Standards on Hold
| Code and/or Name of Standard | Stage of Standard | Member State Leading Development | Priority Level | Comments on Standard |
| --- | --- | --- | --- | --- |
| Electrical Cables - Specification | On hold | Trinidad and Tobago | On Hold | Standard development suspended - TMC to determine need for standard at this point |
| Tourist Accommodation Part IV -Apartments and Condos | New Proposal/On hold | To be determined | On Hold | New Work Item approved but development placed on hold. |
| Tourist Accommodation Part V - Bed and Breakfast | New Proposal/On hold | To be determined | On Hold | New Work Item approved but development placed on hold. |
| Tourist Accommodation Part VI - Villas, Cottages and Cabanas Part | New Proposal/On hold | To be determined | On Hold | New Work Item approved but development placed on hold. |
| Tourist Accommodation Part VII - Home Accommodation | New Proposal/On hold | To be determined | On Hold | New Work Item approved but development placed on hold. |
| Flat-plate Photovoltaic (PV) Modules and Panels – Requirements | New Proposal/On hold | To be determined | On Hold | New Work Item approved but development placed on hold. |
| Cocoa Beans: Part 1: Cocoa Beans - Sampling | On hold | Trinidad and Tobago | On Hold | |
| Cocoa Beans: Part 2: Cocoa Beans - Specification and Quality Requirements | On hold | Trinidad and Tobago | On Hold | |
| Cocoa Beans: Part 3: Specific Requirements for Fine or Flavour Cocoa | On hold | Trinidad and Tobago | On Hold | |
| Cocoa Beans: Part 4: Sustainable and Traceable Cocoa | On hold | Trinidad and Tobago | On Hold | |
| CARICOM Compost | On hold | Jamaica | On Hold | |
| Professional Engineering Services - Code of Practice | On hold | To be determined | On Hold | |