Submitted by the Guyana National Bureau of Standards (GNBS)
The Guyana National Bureau of Standards (GNBS) is the winner of the 2022 CEEMS (Countries and Economies with Emerging Metrology Systems) Award from the International Organisation of Legal Metrology (OIML).
The award recognizes organisations or individuals for outstanding contributions to international legal metrology. It was conferred on the Bureau in October 2022 and was officially handed over by Minister of Tourism, Industry and Commerce, Hon. Oneidge Walrond to Head of Legal Metrology, Mr. Shailendra Rai on Monday, March 6th, 2023.
During the handing over ceremony at the Ministry's Boardroom, Minister Walrond noted that international recognition declares to the world that Guyana is ready to compete on a global level.
"This award and others like it…say that we are getting the recognition for the hard work, but also the fact that as a government we continue to develop policies that make us indeed a competitive nation," she said, as she congratulated the GNBS for the achievement.
The CEEMS award was presented to Guyana at a time when the GNBS is making significant advances in Legal Metrology, while other countries suffer from a lack of resources for the operation of a sound Legal Metrology System. Although these resources cannot be provided by the OIML, the organisation supports initiatives for the development of Legal Metrology across the globe.
Head of the Industrial Metrology and Testing Department, Mrs. Donna Canterbury who spoke on behalf of the GNBS Executive Director (Ag), said, "Becoming a member of the International Organisation for Legal Metrology in 2021 and a winner of this prestigious award for 2022 is a milestone worth celebrating."
The criteria which was used to assess candidates' contribution or achievement included their significance and importance, novelty, attractiveness, and adaptability for other metrology services.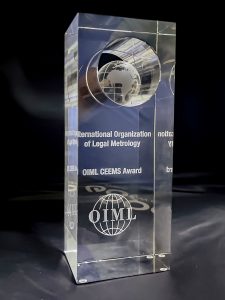 As the Head of Legal Metrology, Mr. Rai represented the GNBS at the 57th International Committee of Legal Metrology (CIML) Meeting where the prestigious "Measurement" Award was announced.
As the recipient of the award, Mr. Rai said, "The GNBS, more so the staff of the Legal Metrology Department is very pleased to the recipient since it is a significant attestation to our hard work and dedication towards the development of Legal Metrology in Guyana."
According to the Legal Metrology Head, the Bureau has increased its services consistently over the past 28 years and will soon introduce new verification services including the verification of net content of pre-packaged goods, Sound Level Meters, Tint Meters, and Liquefied Petroleum Gas Meters. He expressed gratitude to the Government of Guyana for its support to the GNBS over the years through policy direction and budgetary allocations.