The first step towards standardization within the Suriname coconut sector is a fact!
Based on its mandate laid down in SB 2006 no. 30 Article 4, paragraph 1, the Final Draft National Standard "Coconut Oil Specifications" was developed by the Surinamese Standards Bureau (SSB) and was therefore adopted as the National Standard.
As the agency responsible for standards in Suriname, the SSB has proudly announced the National Standard "Coconut Oil – Specifications" as of October 31, 2019.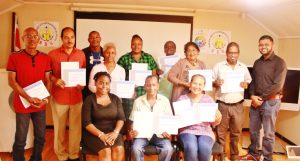 Stakeholders from the sector who have worked on this standard included, Reinier Taus & Mrs. Gitana Plak from ECTAD-Suriname; Mr. Mohamed S. Khodabaks & Mr. Roel Ramautar from the Ministry of Agriculture; Livestock and Fisheries (LVV); Ms. Brenda van Daal & Ms. Melisa Part of the Marron Women Network; Mr. Rick Ong A Kwie from Principalis Consultancy; Ms. Drucenda Faerber from Shalom N.V.; Ms. Florence Giddings & Ms. Bionella Benali from Consumer Circle; Ms. Roshni Sewradj from Public Health Care Office; Ms. Chermine Burleson from DC South-East Wanica; Mr. Ricardo Vriesde & Ms. Dulci Faerber-Wielzen from DC Coronie; Ms. Joyce Toelsie from DC Nickerie & Mr. Tanwir Hassankhan as Technical Secretary on behalf of the Surinamese Standards Bureau.
This National Standard is a modified adoption of the Regional Standard, Coconut Oil – Specification of the CARICOM Regional Organization for Standards and Quality (CROSQ). The standard specifies the requirements and the sampling and testing methods for coconut oil, which must be followed to be considered safe and suitable for human consumption and which can also be used for domestic and commercial purposes. 
The Technical Commission that has worked on the development of this Standard will now act as a National Mirror Commission that will participate in the Revision of the Regional Standards for Coconut Water from CROSQ, after which these Regional Standards will be adopted as National Standards.
Through this, the SSB tries to take the first step towards standardization within the coconut sector, with the aim of contributing to the further growth and strengthening of the coconut sector in Suriname.
For more information, please contact the Surinamese Standards Bureau (SSB).
Contact person: Mw. Charelle Parker (Director) – (597) 499928/29 or e-mail to info@ssb.sr.
(This is a release of the Suriname Standards Bureau)