The CARICOM Region is harmonizing the way it approaches the application of regulations to technical barriers to trade (TBTs), thanks to an EU-Funded initiative now underway.
The project, managed by TradeComII and administered by CROSQ, was launched on July 20th with a virtual kick-off meeting between the region and Brussels, where the objectives and planned outputs were discussed.
The purpose of the project is two-fold – to more effectively apply the World Trade Organisation (WTO) TBT principles, guidelines and recommendations in the application of quality measures and so more efficiently implement the tenets of the Economic Partnership Agreement between the European Union and CARIFORUM. In this way too, the regional integration movement can be strengthened through the harmonisation of the way countries approach WTO – TBT compliant regulations, and then share those best practices with the African and Pacific regions.
CEO of CROSQ, Mr Deryck Omar told those gathered from the European Union Delegation to Barbados, the Eastern Caribbean States, the OECS and CARICOM/CARIFORUM, TradeComII Unit, the CROSQ Network and the consultants, that he was particularly looking forward to the finalization of the Regional Guide on Good Regulatory Practice (GRP) and the cascaded, model National Codes of GRP Practice documents that would be produced.
"Once completed, we are all looking forward to implementation at the national level," he said, adding that this would involve engagement with regional drafters of legislation in CARICOM member states, alongside the national standards bodies of each country.
Speaking on behalf of the EU Delegation in the region, Mr. Sheldon Jackman congratulated the project managers and CROSQ on reaching this point.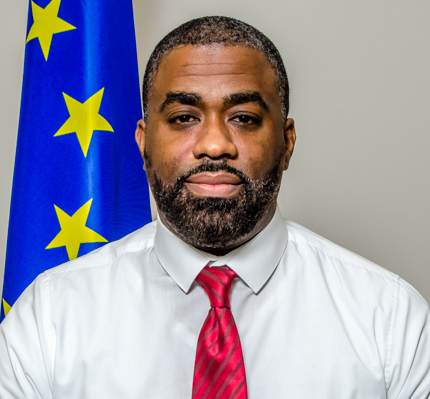 "We recognise that this project will bring various benefits to the CARICOM Region, in that it will continue to ensure compliance with international standards, and the application of quality infrastructure measures. Apart from that, it will also contribute to regional integration in CARICOM countries by the harmonisation of practices and the improved compliance in the application of TBT trade regulations," he said.
The EU project manager stated that this project followed a successful Phase 1 that saw the initial development of the GRP and CoP documents, which will now be finalized and printed for use by the region, and also shared with regional quality counterparts in Africa and the Pacific Islands.
"This, of course, will complement the ongoing TBT work that is being done under the 11th EDF TBT Programme, where a significant amount of work is being done within the region to improve the national quality infrastructure, as well as other interventions under the standby facility currently being managed by the Caribbean Development Bank. We are seeing improvements in the national quality infrastructure in various countries such as the OECS, the Bahamas, Belize, Jamaica and Trinidad and Tobago," Mr. Jackman said.
Key consultant on the project, Mr. Ramon Madrinand indicated that ahead of the finalization of the documents, there would be engagements with countries for feedback and consensus.