Submitted by the Dominica Bureau of Standards (DBOS)
The Dominica Bureau of Standards (DBOS) has targeted its manufacturing sector in an effort to increase conformance to the requirements of eight compulsory national standards for labelling.
The Inspection Unit of the DBOS conducted trainings for local manufacturers and agro-processors in two locations at the Goodwill Parish Hall and the Portsmouth Cooperative Credit Union in June 2021, as part of its ongoing awareness and sensitisation efforts. A total of sixty-three (63) manufacturers/agro-processors involved in the production of oils, punches, and confectionaries, to name a few, were in attendance.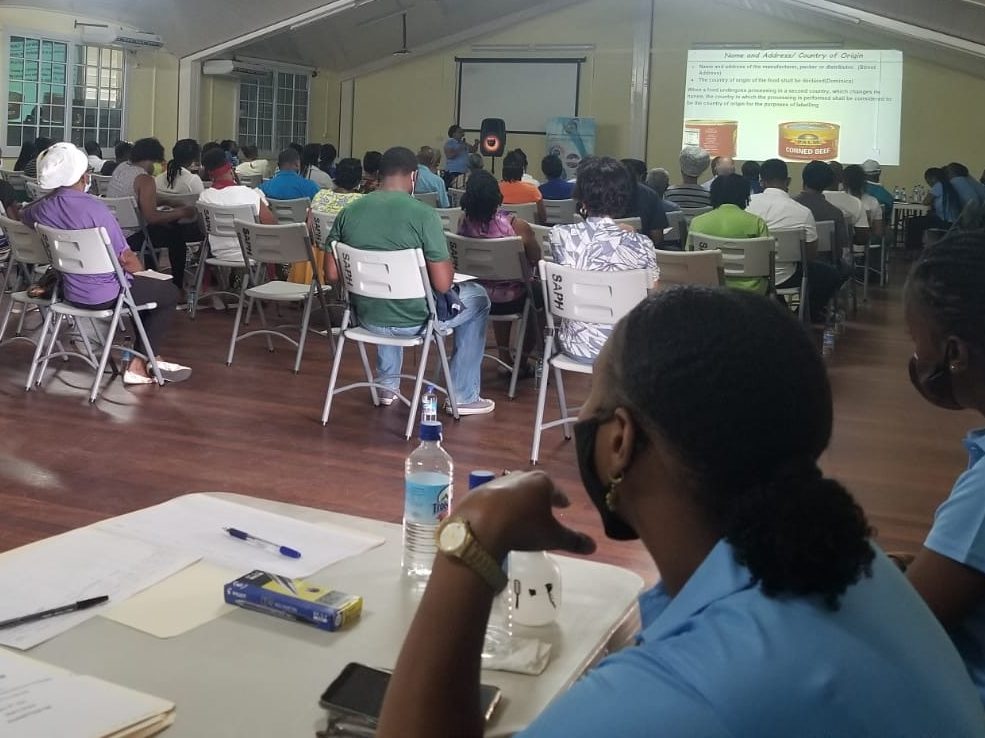 The main objective of the training was to encourage adherence to the Compulsory Dominica National Standards – Specifications for Labelling and to promote the services offered by the Bureau. The importance of the Labelling Standards was emphasised, and their requirements were thoroughly explained and illustrated by members of the Inspection Unit.
In addition, the services and activities of the other units of the Bureau were highlighted. Staff of Standards Development, Certification, Metrology, and the National Centre of Testing Excellence (Chemistry and Microbiology Laboratories) delivered presentations on the services relevant to manufacturers and agro-processors in the development of quality products. Information on laboratory services such as shelf life, nutritional facts, alcohol content, contaminants and packaging testing was provided. Other services such as verification of measuring devices, Good Manufacturing Practices (GMP) Certification and Certificate of Free Sale for export were also discussed.
The Bureau expressed that because of this training, local manufacturers and agro-processors would now have a better understanding and appreciation for the requirements of the standards, and as a result there would be an improvement in the quality of local products.
Participant Jillian LaRocque stated, "The Dominica Bureau of Standards is an ally. We came to this conclusion when we attended one of a series of informational outreaches of the Bureau earlier this week. The information was well presented, and the services and support being provided to business owners involved in manufacturing/processing is commendable."
The Bureau recognised the important contribution of manufacturers and agro-processors to the development of the economy and pledged to continue to provide relevant assistance to improve the quality and safety of their products.