National Standards Bureaux in CARICOM are taking dialogues about the quality measures needed for sustainable improvements, to the priority sectors in the region.
The National Quality Dialogues, so termed because the discussions all centre around issues of quality and related services and systems needed to boost competitiveness in the region, have been unfolding on an increasing scale since late last year.
CROSQ's Project Coordinator with the Technical Barriers to Trade (TBT) Component of the 11th European Development Fund Economic Partnership Agreement Programme, Mr. Terry Hutchinson, said despite delays in activating the dialogues due to COVID-19, he's now convinced the pace of activities will increase.
Last year Barbados, Saint Lucia and Trinidad and Tobago held dialogues with the agro-processing, tourism and agriculture sectors respectively. Last month St Kitts and Nevis, then at the start of April St Vincent and the Grenadines tackling the tourism and agriculture sectors respectively, and bringing stakeholders together for in-depth and frank discussions. St Kitts and Nevis was the first to have a face-to-face event, with St Vincent and the Grenadines doing likewise.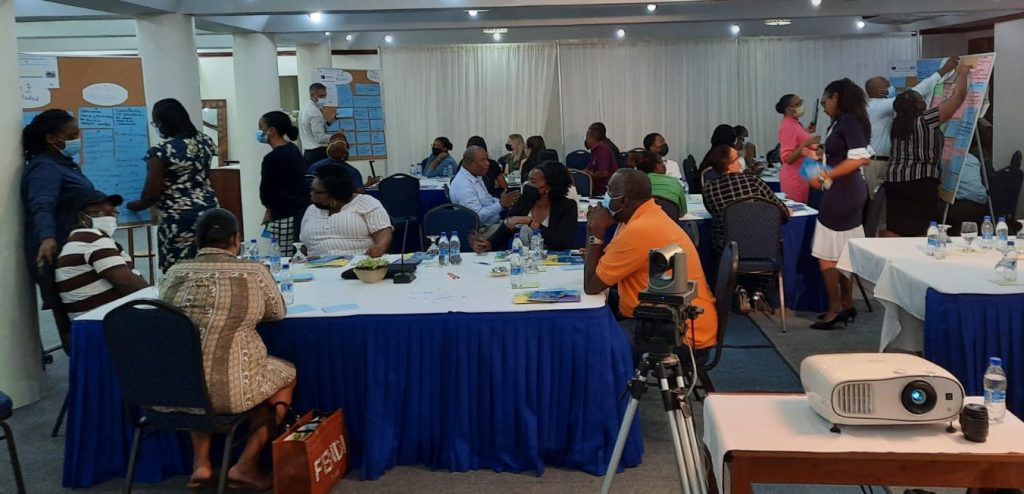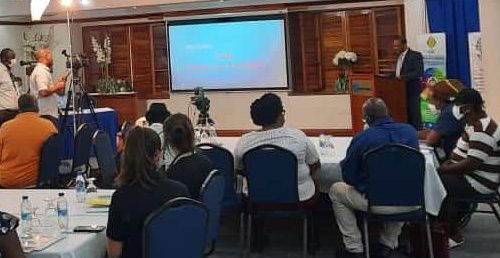 Mr. Hutchinson explained the dialogues bring together key stakeholders in a sector identified by the country as being a priority one with export earning potential. As the 11th EDF EPA Programme focusses on facilitating trading within the European Union, by exploiting the EPA agreement signed by this region and European counterparts, this method is used a prime method of hearing from the stakeholders themselves what they need and how the quality institutions can assist.
A lot of preparatory work goes into the process ahead of the actual event being held to determine what specific areas of the sector will be foremost discussed, and stakeholders are split into subsequent groups to examine the quality issues they experience in each identified area of the sector.
The CROSQ coordinator explained that since the COVID pandemic had halted face-to-face engagements for the most part, all quality dialogues before the end of March had been online. This meant utilizing software and online platforms to facilitate and bolster engagement, as well as frequent stakeholder meetings ahead of the big event.
"To ensure we had good participation and attendance, and good moderation, we had several meetings with the strategic partners in the specific sector that the [country] would have indicated. Initially, we were only thinking that two meetings were necessary, but like with Barbados we had about six meetings just to ensure that all the subsectors were able to get a good grasp of what we were trying to achieve and how they could contribute to reach of the goals," he said.
It meant training individuals from the sector, who were identified as moderators for discussions, in the relevant software to allow them to discuss, document and structure groups findings online in real time, as the meetings were being conducted. Those moderators would then help participants navigate the software to contribute ideas, and guide discussion and tease out ideas.
"When we started there were a lot of assumptions made. There was just one engagement session with facilitators on the software, but recognized that we needed to have three or four, or in the case of Barbados we had six and that turned out very well in the end. So that was one of the things that we had to implement.
"It would have been challenging because we had to get someone who was familiar and confident in using [the software]. We had to tap into the resource that PTB [German National Metrology Institute] uses. Mr. Valqui would have been able to give us the training that was needed, and even though we've transitioned to face-to-face meetings, we have a back-up plan in case there is some unforeseen circumstance. We trained everyone in use of the software to gave them an appreciation for what would happen in a virtual setting in case we need it," said Mr. Hutchinson.
The next dialogues, he said, he expected would likewise be face-to-face, with an event scheduled for Antigua and Barbuda, before month end, as well as Grenada in coming weeks. The officer also stated that they were looking to engage stakeholders in Montserrat, utilizing a slightly different approach. Given the country's small size and the needs of its' business sectors, Mr. Hutchinson said the project was in discussion with officials there to see what shape that support would take.
"It is a modified dialogue for their private-sector organizations, but it's not any specific sector, because (of their size), but there are trying to get everyone familiar with quality infrastructure and we are trying to create a roadmap," he said adding that certification and accreditation would be among the key quality areas of focus in the small island state. The project is expected to draw to a close in 2023.