Metrology technicians at the Trinidad and Tobago Bureau of Standards (TTBS) are pressing home the validity of the work that they do in a local competition to mark World Metrology Day 2023.
The competition was intended to encourage such measurement specialists to write articles which contribute to their development and showcased the value of their work on a global scale.
In keeping with the theme for World Metrology Day 2023, the winning paper was entitled, "Measurements Supporting the Global Food System". It was written by a team comprising TTBS technicians Mr. Shaquille Gonzales, Mr. Nigel Cudjoe, Mr. Ravindra Maharaj, Mr. Avinash Maharaj and Mr. Rudo Charles.
In the paper, the scientists conducted a study within the bureau and drafted their findings on the views of the importance of measurements to the global food chain.
They stated: "Accurate measurement is essential for ensuring that food products are safe for consumption. Measurement is used in various ways to test for contaminants such as bacteria, pesticides, and heavy metals, and to ensure that food products meet safety standards set by regulatory agencies. Another way measurement is important is that it is involved with improving food quality. It is also used to determine the quality of food products, including factors such as nutrient content, flavour, and texture."
The scientists also posited: "Overall, accurate and consistent measurement is essential for supporting the food global system, ensuring food safety, improving food quality, supporting supply chain efficiency, and
facilitating trade."
The winning group of technicians was one of three groups that participated in the activity, where they had to show the importance of measurement to the global food system; highlight the value and imporance of the work they did in the global food challenges; show how measurements assist in solving food challenges, all using examples, quotes and other supporting facts from experts.
A full copy of the paper can be found below by clicking the image or the PDF link.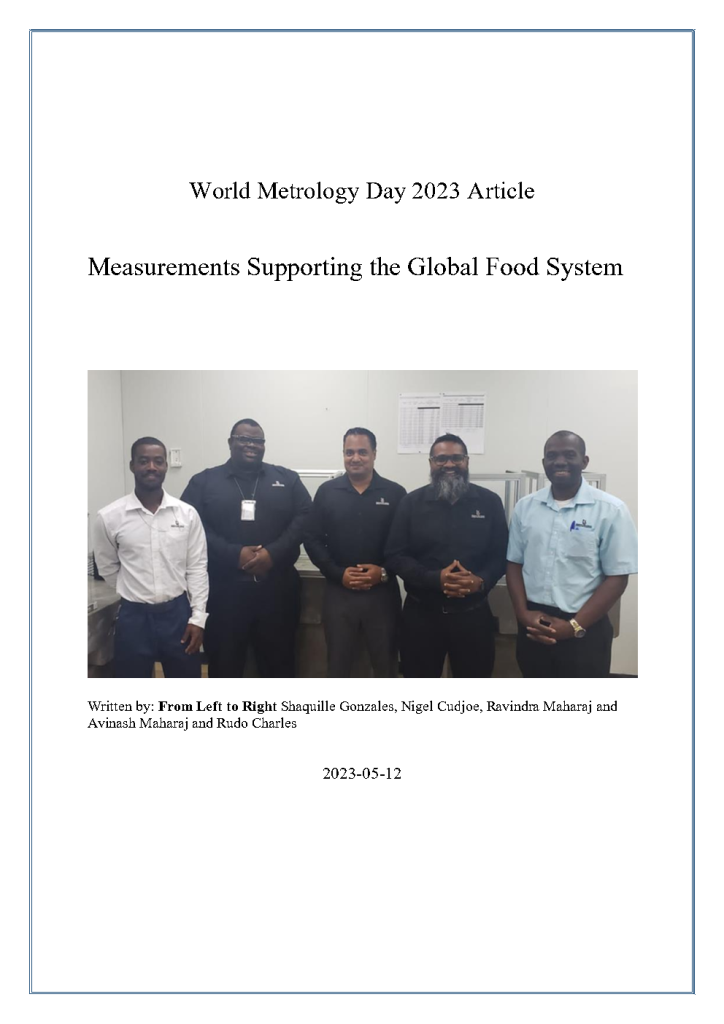 Team-2-World-Metrology-Day-2023-Article-TTBS