by Ms Donna Sealy (contributor)
The Institute of Marine Affairs (IMA) and the National Petroleum Marketing Company Ltd. (NP) are the first two state-owned organisations to receive their accreditation certificates in Trinidad and Tobago.
Both public laboratories, now accredited to the International Organisation for Standardization (ISO) standard for non-medical laboratories – ISO/IEC 17025, were presented with their recognition certificates at an event held on March 15. The event also signaled the official launch of the National Quality Awards (NQA), which will "recognise businesses that apply quality standards and quality management systems and practices in their daily operations".
Stating that, "quality is a moving target" one which "is often difficult to define", Executive Director of the Trinidad and Tobago Bureau of Standards (TTBS) Mr. Jose Trejo said, the national standards body "has the responsibility to balance the economic development of the nation in alignment with the welfare of the citizens", and "aspires to achieve this through its work in supporting the effective implementation of the 2018-2030 National Quality policy and the further development of Trinidad & Tobago's national quality infrastructure".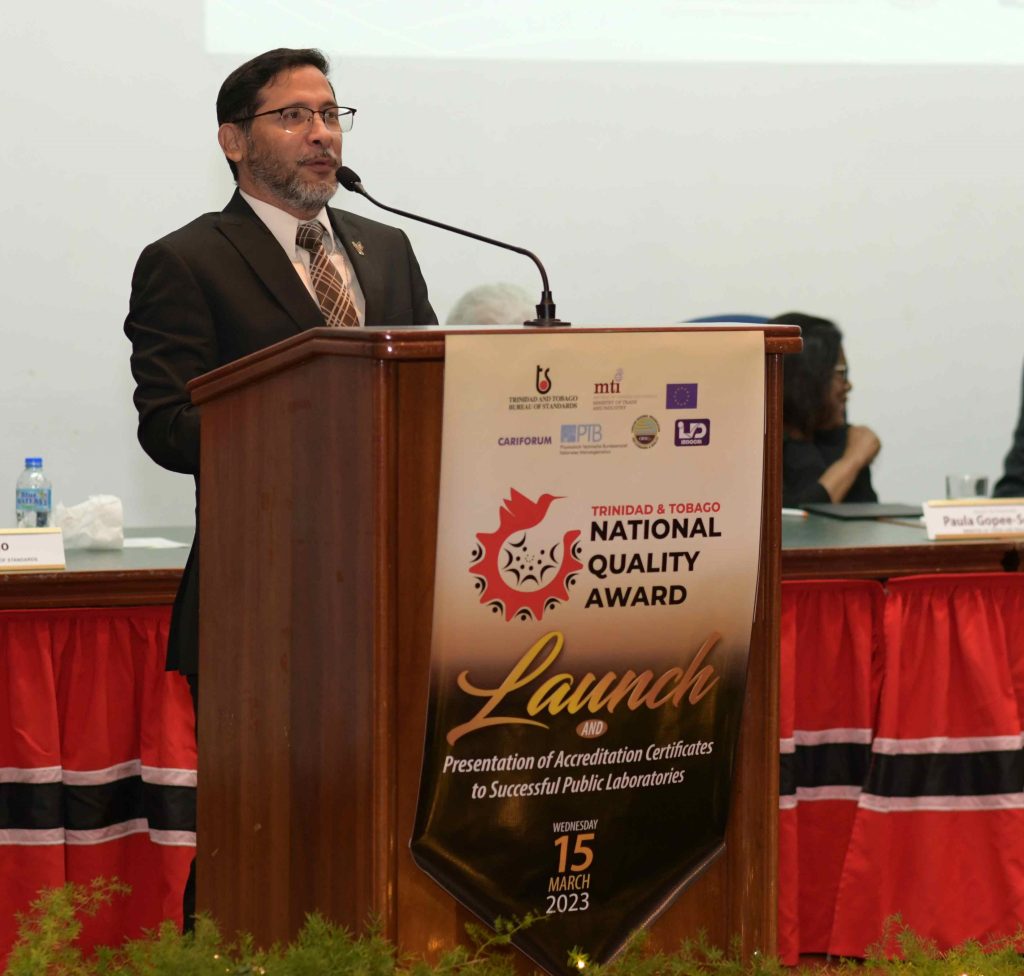 The executive director further said the TTBS continued to work with the Ministry of Trade and Industry to implement the work programme of the national policy and was "strategically poised to support the task of developing a national quality system" which the agency's chairman, Mr. Lawford Dupres, spoke about in his remarks.
Mr. Dupres congratulated the accredited organisations and said he hoped "that sooner rather than later all laboratories, non-medical and medical, that provide services to the public will follow the example whether by commercial incentives, internal policies, or regulatory decree".
"When a majority of citizens and organisations embrace the value of quality in everyday life and business and demand it more consistent and vigorously of those in the public and private sectors who supply the services and products they consume, we believe that there will be a powerful and positive impact on our national standard of living," he also said.
Mr. Dupres stated the NQA will recognise various sized businesses in the service, manufacturing, agricultural and agro-processing sectors "that apply standards and quality management practices to deliver products and services that lead to greater customer satisfaction".
The NQA is an initiative of the 11th European Development Fund Economic Partnership Agreement Programme's Technical Barriers to Trade Component, being implemented in CARICOM by the CARICOM Regional Organisation for Standards and Quality (CROSQ). It is one of three such awards developed under the programme – the others being Suriname, and St Vincent and the Grenadines. Trinidad and Tobago's awards ceremony is expected to take place in November during National Quality Month.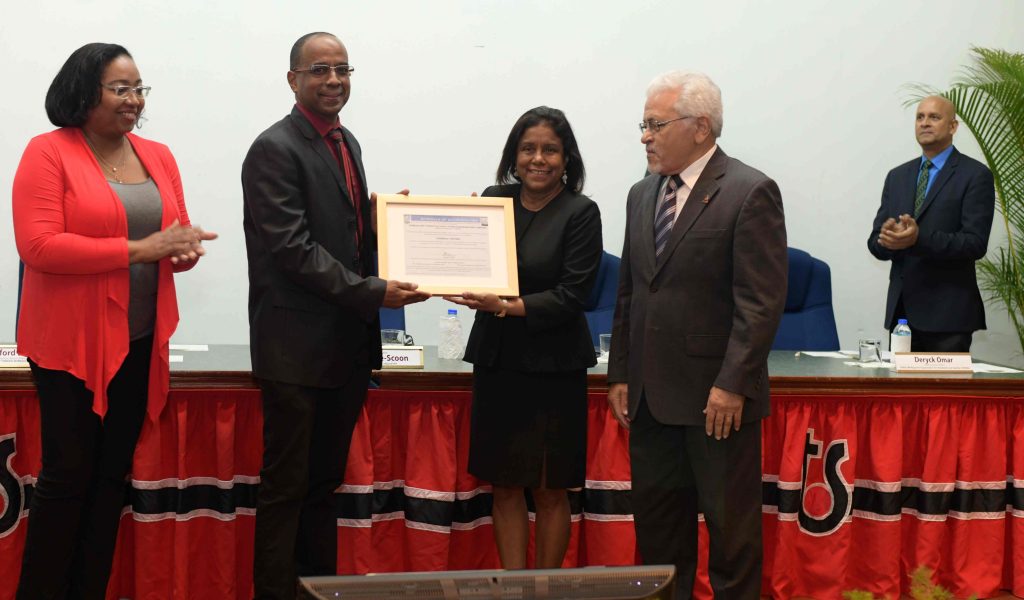 For Mr. John Gormandy, Acting Chief Executive Officer of the NP, which blends a wide range of automotive and industrial lubricants, being accredited is a good move.
Thanking the Trinidad and Tobago Laboratory Accreditation Service for selecting them to participate in the Ministry of Trade and Industry's National Accreditation Programme, he said the achievement of the international standard is "of strategic importance" for them because "it enhances the public's confidence" in their test results while improving their ability to compete globally.
"We are indeed proud that the competence of NP's laboratory to provide technically valid viscosity results has been recognized. The story of NP's laboratory dates as far back as 1973. As NP's range of lubricants expanded over the years, improvements were made to the facility and by extension the testing process. In fact, once these improvements were made we were able to secure contracts with several multinational brands such as Texaco, Shell and Bel-Ray and we continue to aggressively pursue additional contract blends," said Mr. Gormandy.
The Acting CEO stated the lab is responsible for all quality control and quality assurance of all raw materials, finished products such as engine and industrial oils, transmission fluids, and fuels which the company marketed to motorists.
"As a leading provider of world class blends of lubricants, the accurate determination of viscosity is essential to specifications and final use of NP products. For us, the accreditation is a testament to the fact that the laboratory fulfills the technical and management requirements of ISO/ICE 17025:2017 standard while consistently delivering technically valid test results that meet the requirements for the competent, impartial, and consistent operation of our laboratory," he said, before thanking the company's team who went "above and beyond" during the COVID-19 pandemic to ensure their success.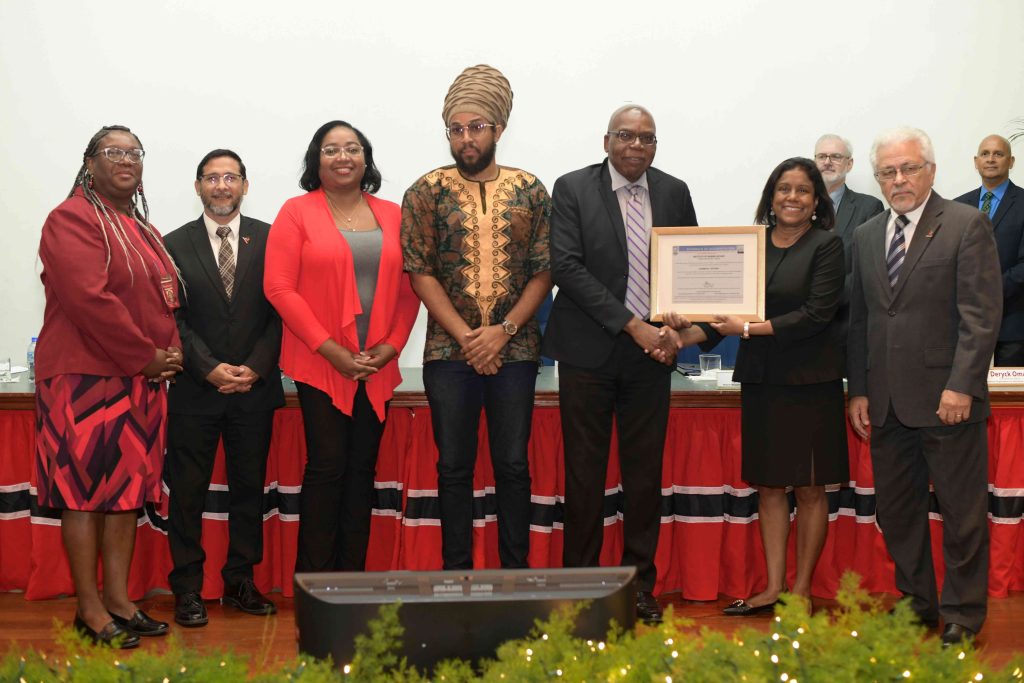 The IMA's road to accreditation for test scope -nitrate and nitrite- was also impacted by the global pandemic.
Mr. Kyle Williams, who spoke on behalf of the organisation, said their journey started in 2005 but the "process fell through" and they never revised it until 2018 when they decided to have other test scopes accredited.
"In December 2018, I saw TTBS advertised a programme where we can get accredited. I called my director and I said, 'we might not have to spend that money if we get through with this because the consultant fee is actually a little pricey and our organization doesn't generate funds like that. So, we decided to go that route. We applied and because we had all the processes in place, I was pretty confident that we would have gotten through.
"In 2019, we were acknowledged that we received the award to start and we started training [which] was very beneficial to all our employees, some had experience with quality, some had experience with safety so it wasn't a hard process for us to catch on. Then, COVID came and that made the whole process a little tedious for us because we had to go from learning something new and using all these online platforms -some of the meetings were online- but we adjusted …," shared Mr. Williams. He said having a good consultant was critical.
*Ms. Donna Sealy has worked in journalism for more than 25 years and has covered a range of areas. Although these days she mainly writes human interest features, she's keen on tackling new areas and learning new things.