by Ms. Donna Sealy (contributor)
Guyana is gearing up for its fourth National Quality Awards (NQA) slated for October this year.
The awards, first held in 2017, are open to micro, small, and large enterprises and will see them being recognised in categories such as health and safety, environmental initiatives, continuous improvement, customer focus, and leadership, apart from being eligible for overall winners in the different size categories.
This year, there was a deliberate effort to include agro-processors and micro businesses.
Why are the NQAs and national standards important?
In a recent episode of CROSQ's The QUALITY Link podcast, Mr. Syeid Ibrahim, head of Marketing at the Guyana National Bureau of Standards spoke with Marketing Officers Mr. George DeFreitas, Miss Aishah Hussain, and Mr. Tyrone Rambacchus, their Business Development Officer, who sought to answer this question.
They spoke about the purpose of the National Quality Awards and their benefits to businesses. And while they offered listeners a Guyana perspective, what they discussed redounds to the benefit of all CARICOM Member States, countries outside the bloc, and all enterprises whether they aim to export regionally or extra-regionally.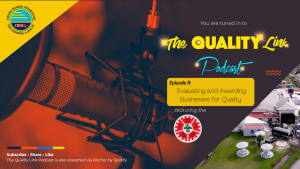 "The National Quality Awards is a national initiative for various countries that seek to recognize their local businesses for their commitment of quality and their commitment in implementing standards," Mr. Ibrahim stated.
"The Quality Awards is an exciting programme that recognises businesses and give them additional promotion and an additional push to stay continued in their commitment to quality and standards," he said, adding, "it was not only important to Guyana".
The Head of Marketing pointed out that international trade has changed the way business is done in the region, especially related to exports.
"You always have to have some quality management system in place before you can access the market. A quality management system allows for a competitive advantage, [and for businesses to] get more business and customers," he said.
The recurring message was that "quality is the first step to getting anywhere" and although only three CARICOM member states presently have national quality awards: Jamaica, Guyana, and Suriname, with Trinidad and Tobago having launched their first last month, [March 2023], Mr. Rambacchus said that standards and quality were being prioritised by "a lot of our national standards bodies throughout the region".
He said the benefits of implementing these quality systems go "far beyond just what you would typically expect".
"Standards and quality are everybody's business. It allows a lot of businesses, institutions, organisations to be able to give confidence to their prospective users of their services and products because it allows them to guarantee they can deliver and meet their requirements, their intended purpose, whatever their case may be. It is something that is very advantageous more so, and whatever organisation, whatever capacity you function in, once you're able to implement standards and quality it goes a long way for you. So, it is definitely beneficial in every way."
The GNBS team said the NQA programme is important because it shows the "country is focused on quality and standards" and that "businesses are going to be more competitive" which impacts positively on consumers who will get better quality products and better prices.
In Guyana, businesses are categorised separately so those of like sizes, whether large manufacturers and large business services, small and micro businesses can compete. The intention is to "have a fair playing field".
So, what does the process involve?
The process for participation is straightforward. There's an application form which must be submitted by the predetermined deadline. After that, the forms are evaluated to make sure they fit into the respective categories and the preset criteria for entry.
Enterprises should be registered, tax compliant, and have "certain policies in place". In-depth assessments or professional audits are conducted which include a series of questions. Applicants must provide evidence.
The Business Development Officer said the process is "as transparent as possible" and is based on established quality management principles in areas such as leadership and company strategy.
Although auditing is based on some areas of the ISO 9001 standard, businesses do not have to be 9001 certified. They are required, however, to show how they are meeting those 9001 requirements. An evaluation by a team of three independent evaluators follows, and to prevent personal biases or impartial opinions, each application form is assigned a code, so teams are unaware of the identify business during the first phase.
Mr. DeFreitas explained the documents go through a weighted average score and the final tier, which is "essentially a double check", is "to ensure the scorers are as honest and clear as much as possible".
The team disclosed that "a lot of micro enterprises applied for the NQAs" which are "very competitive".
Mr. Ibrahim, who said he likes the inclusion of micro businesses "because we fail in the region, to acknowledge the very small entities or entrepreneurs that have one to five persons, and people tend to push them aside because they look for the big brands they're familiar with", asked how they and small agro-processors will be treated.
Miss Hussain explained: "Generally, although they are some requirements in terms of documentation for applying for the NQA, for the micro businesses we have a little bit of flexibility there as it relates to some requirements, National Insurance Scheme compliance, or tax compliance, so that we're not putting any sort of burden on them to apply [and] so that it's not economically difficult. We make it easy and somewhat of a level playing field so that they're included."
As the promotion continues to have more businesses participate in the NQA and improve their standards and the quality of their operations, the GNSB intends to adapt the awards of national recognition.
Asked about some of the challenges experienced from 2017 to 2023 and how they were overcome, Mr. DeFreitas said after the first NQA was executed six years ago it was recognised that the categories had to be broken up. The GNSB has also been able to define them better over time.
He further said that initially there was "an overall category and one overall winner", but they "recognised in the process of the NQA that we need to do it more sector and size category" and established what exists today. Miss Hussain added that in this fourth edition of the Awards, "we wanted to include and ensure that the agro-processors or the microbusinesses have an equal opportunity to win a national award. This time around we included a new category which is micro agro-processing".
Ms. Donna Sealy has worked in journalism for more than 25 years and has covered a range of areas. Although these days she mainly writes human interest features, she's keen on tackling new areas and learning new things.