Submitted by the Barbados National Standards Institution
Message by the Honourable Kerrie Symmonds, M.P. to mark World Standards Day 2021 – Our Shared Vision for a Better World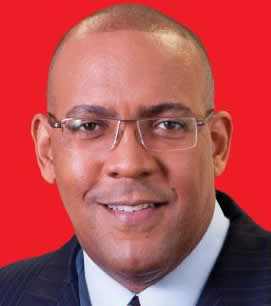 Fellow Barbadians, each year on 14 October, the members of the International Organization for Standardization (ISO) celebrate World Standards Day, which is a means of paying tribute to the collaborative efforts of thousands of experts worldwide, who develop the voluntary technical agreements that are published as International Standards.
As one such member, the Barbados National Standards Institution (BNSI) is a driver of the country's National Quality Infrastructure (NQI), which is a critical enabler for social progress, economic development, participation in international trade and the achievement of the sustainable development goals. Over the past 18 months, one cannot help but observe the critical nature of the sustainable goal in support of good health and well-being. The ongoing "COVID-19" pandemic whilst primarily a health crisis, has far reaching economic consequences. The global community therefore needs to work together to mitigate this global crisis, which is posing challenges to humanity that have never been experienced before.
In Barbados, we must do our part to safeguard the quality of life that most of us have grown accustomed to. As the theme suggests, all Barbadians and residents must have a shared vision and be committed to working together to once again achieve economic, social and people development.
As signaled by our Prime Minister, the Honourable Mia Amor Mottley, Q.C., M.P. some of the key areas that Government will continue to focus will be health, reducing childhood obesity, the reduction of plastic pollution, carbon emissions, and waste production. Additionally, digital technologies will be used to enhance entrepreneurship, and partnership systems developed to reduce crime, and violence in our communities.
The continuous development of standards and building awareness of same, ensures that our companies and consumers are protected. I assure you that Government will continue to develop policies, review and enhance legislation to offer an extra protective environment.
In fact, I am pleased to indicate that Cabinet has approved the Drafting of a Barbados National Quality Policy created by my Ministry. This National Quality Policy, upon implementation, is expected to facilitate Barbados' access to global markets and enhance the competitiveness of our goods and services, produce and strengthen the capacity of micro, small and medium enterprises and entrepreneurs, to flourish and succeed in the domestic, intra-regional and extra-regional markets. The Policy establishes the institutional framework needed for the implementation of quality initiatives in virtually all segments of the Barbadian society. The deployment of quality as a competitive strategy is expected to result in the continuous improvement of said quality of our goods and services, as well as increased productivity. As you would appreciate, this approach enables Barbados to establish itself well above mere compliance to global trading rules, but more so to transition to become a globally integrated, competitive trading partner, exploiting numerous opportunities presented. The National Quality Policy also serves to defend Barbados' borders from inferior, hazardous and counterfeit goods.
It is no secret that micro, small and medium-sized enterprises (MSMEs) can find it challenging to cope and comply with regulations and adapt regulatory changes. Good regulatory practices help create a stable and enabling regulatory environment for investment, trade, and entrepreneurship, and thus supports healthy economies and regional competitiveness. In this regard, my Government is also in the process of establishing a Quality Council, which is intended to be responsible for the implementation of the National Quality Policy. The country's Standards Body, namely the Barbados National Standards Institution (BNSI), will be an integral part of the Quality Council, functioning in the capacity to inform on all international standards which will be part of the process of developing technical regulations, guided by the Chief Parliamentary Office.
In keeping with international best practice for Good Regulatory Practices, the Barbados Private Sector, will also be represented on the Quality Council when established, giving a voice to the sector in the developmental process and ensuring full transparency and impartiality. Other governmental and non-governmental agencies will be represented, ensuring that the country's process of developing technical regulations will always be compliant, especially with regards to agreements on Technical Barriers to Trade (TBT)
It is important to note as well, that we are about to proclaim a new piece of legislation in the Barbados landscape, which is at the approval stage with the Attorney General's Office, namely the Barbados Metrology Act. This Act shall be responsible for ensuring that all measurement standards to be used in Barbados are in compliance with international standards and to ensure that all measuring instruments are metrologically traceable to the International System of Units.
Another recent success of my administration is the support to the Laboratory Services of the BNSI, as a key pillar in developing the country's quality infrastructure. This support resulted in a Project to retrofit the existing Laboratory facilities of the BNSI through a phased approach, during the short term 2021-2022. Phase 1 of the Project is tabled to be completed by the end of this month (October), providing satisfactory Laboratory Services for testing capabilities to be developed in select critical areas, deriving several benefits including improved work conditions, increased capacity in priority metrology and testing areas, increased foreign exchange earning potential from external clients and increased support for regulatory requirements.

I am delighted to report that I have recently been informed that over the last few days, BICO Ltd is the most recent company in Barbados to obtain the BNSI Safe Business Stamp and Certificate. This stamp allows companies to visibly demonstrate that their organization has implemented safe protocols based on international standards and international best practices. This not only adds another level of protection to employees and customers against the associated risks from COVID-19, but will also aid in returning a sense of confidence to business clients, partners and entities interacting with your business. I encourage all business in Barbados, big or small to contact the BNSI and obtain the Safe Business Stamp in order to be competitive and rebuild in the current environment.
I would like to take the opportunity to commend the good work of the management and staff of the BNSI and similar institutions across the globe as we celebrate World Standards Day, 2021.