Submitted by the Bureau of Standards Jamaica (BSJ)
FOUR more laboratories of the Bureau of Standards Jamaica (BSJ) are now accredited.
The four – Concrete and Masonry Laboratory; Aggregates Laboratory and Cement Laboratory in the Testing and Industrial Services Branch and the Energy Efficiency Laboratory in the Electrical and Electronics Branch – all within the Metrology and Testing Division of the BSJ were presented with their certificates by the Jamaica National Agency for Accreditation (JANAAC). The accreditation ceremony was held on Tuesday, July 19, 2022, at the Jamaica Pegasus Hotel, in Kingston, Jamaica.
The laboratories have been accredited to ISO/IEC 17025:2017, which enables such laboratories to demonstrate that they operate competently and generate valid results, thereby promoting confidence in their work both nationally and around the world.
Senator the Hon. Aubyn Hill, Jamaica's Minister of Industry, Investment and Commerce (MIIC), in offering commendations to the BSJ noted the significance of the accreditation because of its impact on the local industries.
"The accreditation of these labs, coupled with the BSJ Metallurgy Laboratory that was previously accredited by JANAAC, will now support the industry in ensuring that the tests that are done on the construction products and materials will improve the quality of buildings, roads and bridges in Jamaica," said Senator Hill.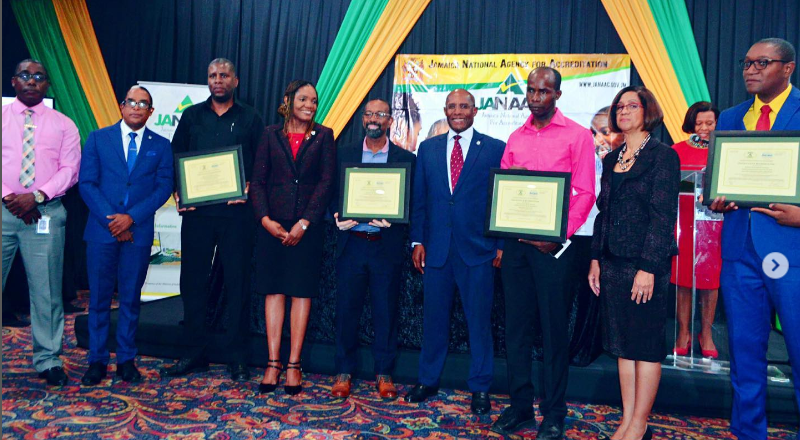 Senator Hill also commended JANAAC, for its part along with the BSJ, in facilitating trade and investment, growing and sustaining industries, and protecting and empowering consumers. JANAAC is the only internationally recognized accreditation body in the English-speaking Caribbean which provides services to conformity assessment bodies.
"These achievements are monumental and it took dedication and team work," said Hunston Hunter, Director, Metrology and Testing, BSJ, in offering the response. He expressed commendations to his team members and the wider BSJ team who he said had worked hard to establish and maintain a quality management system which contributes significantly to the National Quality Infrastructure of Jamaica.
An obviously proud Hunter declared that having obtained accreditation, the Energy Efficiency Laboratory has been recognised by the CARICOM Regional Organisation for Standards and Quality (CROSQ) as the centre of excellence to conduct energy efficiency testing of refrigerators and room air conditioners for the Caribbean. The Construction Materials Testing labs, he noted, were the first government building materials testing labs in the English-speaking Caribbean.
The BSJ now has eight laboratories that have been accredited by JANAAC.